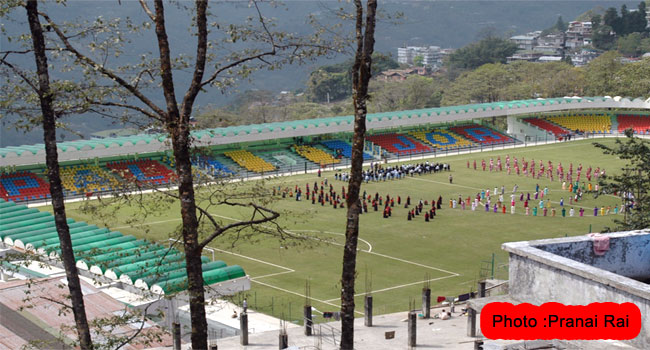 Mumbai United crashes out on tiebreaker
Gangtok, September 13:
BNR Kolkata entered the quarterfinal stage of the 31st All India Governor's Gold Cup football tournament by defeating Mumbai United in tiebreaker today here at Paljor Stadium.
The BNR players converted all their first three penalty shots while the Mumbai United players could not score from their first three penalty shots handing a 3-0 victory for the Kolkata team on penalties.
The game had to be decided with tiebreaker as both the sides were locked in a 1-1 draw till the regulation time and also in the extra time.
During the match, Mumbai United had taken an early lead in the 8th minute when its striker S Basiru connected a looping cross from A Shahbaz with his head to score the goal.
Eight minutes later, Nigerian striker of BNR Kolkata, Baba Tunde headed a corner into the path of his teammate Asim Das who volleyed to score the equalizing goal for his team.
Both teams could score any further goals leaving the match to be decided on penalties.
With this victory, BNR Kolkatta has set up a quarterfinal match with the in-form Tata Football Academy wards.
Tomorrow, George Telegraph plays against Faria Strikers, Goa in the last pre-quarterfinal match of the tournament.
Meanwhile, the finals of the Gold Cup slated for September 22 has been preponed to September 21, informed the organizers, Sikkim Football Association