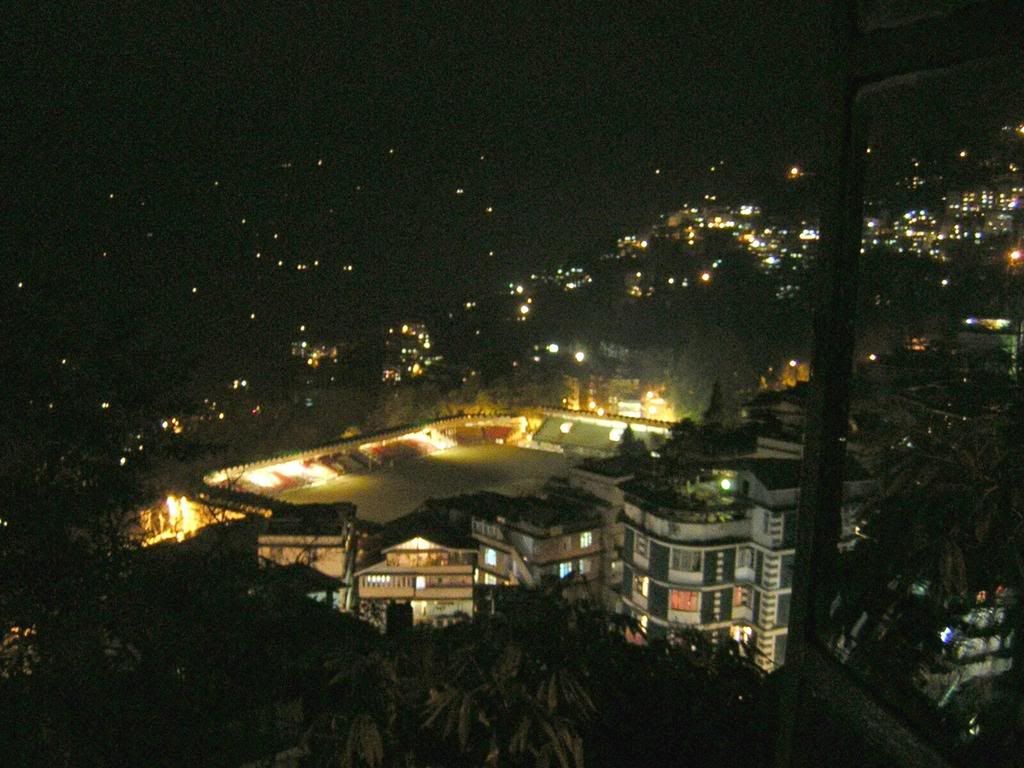 GANGTOK,May28-
The renovated Paljor Stadium with its world class artificial turf field was inaugurated formally by the Sikkim Chief Minister, Pawan Chamling on 28th of May.
The inauguration day saw an exhibition match between Bhaichung Bhutia's United Sikkim Football Club (USFC) and Minister's XI comprising of Sikkimese Footballers playing in different clubs around the country and some foreign players. The function also witnessed drills performed by the different school students as well. The turf laid at Paljor stadium is manufactured by the Field Turf Tarkett, Georgia, USA whereas the project was executed by the Great Sports Infrastructure Private Limited which started on 1st of January this year. The total sanctioned cost for the project is Rs.3.77 crores. Apart from laying the artificial turf, the department of sports had also taken up many renovation works in the Paljor stadium.
Addressing the people in Stadium,Gangtok MLA & the Secretary of Sports and Youth Affairs Department, Mr. Karma P Bhutia mentioned that the entire infrastructure development is the contribution of the Sikkim Chief Minister to the people of Sikkim .
Secretary Mr. Bhutia added that, due to joint efforts from all concerned corners the project was completed at the right time and also added that the surface was composed of monofilament polyethylene blend fibres tufted into a polypropylene backing.
Mr. Bhutia stated in his technical report that "the infill is composed of a bottom layer of silica sand, middle layer with a mixture of sand and cryogenic rubber and the top layer is covered with only rubber. The fibres are meant to replicate blades of grass while the infill acts as a cushion which improves safety compared to earlier artificial surfaces and allows players to plant and pivot as if they are playing on a grassy field".
The surface is also beneficial considering its low cost maintenance and durability. The Paljor Stadium which covers more than 93,000 sq feet of artificial turf is also the largest in the SAARC region. Some teams had also practiced on this newly laid turf where they have given optimistic response and the artificial turf laid is also feasible for Gangtok's climate.
After the inauguration, the ground was opened for all footballers for carrying out their regular practice, coaching camp and Gangtokians for jogging & fitness. The department also be issuing the identity card to regular users to avoid the entry of miscreants in the stadium. "Digging and public functions will be avoided in the ground" stated the Secretary.
Furthermore Secretary informed that, the artificial turf will help the footballer to improve their technical skills and added that, the United Sikkim Football Club has approached the department for using the Paljor Stadium and the department will provide them the ground only after paying the fees applicable