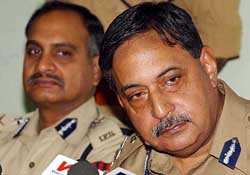 Sikkim director general of police C M Ravindran will take part in a five-day
Interpol meeting scheduled to be held from October 11 in Singapore.
A total of 148 police officers from across the world have been invited to take part in the police officers meet in which issues being faced by the police in various countries are expected to be discussed, official sources said here today.
Besides Raut, two other police officers from India Central Bureau of Investigation (CBI) director, Ashwini Kumar and Madhya Pradesh director general of police (DGP) SK Raut have also been invited, they said.