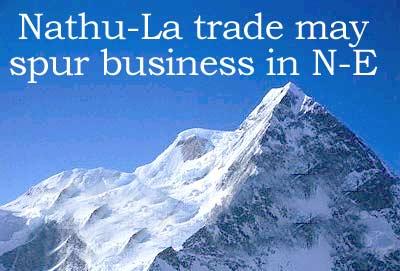 GANGTOK, November 17:
As the fourth consecutive year of the border trade between India and China via Nathu-la border comes to an end on November 30 for the year 2009, the traders from both sides of the border are happy that the business transactions were better than last year.
Despite teething problems faced by the Indian traders in the beginning of the year, traders are of the opinion that the overall business transactions would be better than last year.
Anil Kumar Gupta, one of the Indian traders said, there has been a drastic rise in trade in the past three months covering up all the losses of the past five months. "This year too, we will have amicable closure of the trade on November 30 for which discussions will be held between the two trader groups," Mr. Gupta added.
It has also been learnt that every day nearly 80 traders from China and 40 traders from India cross the border for their usual transaction.
According to Mr. Gupta, the items that are exported and are in demand are canned food, spices, edible oil, textile cloths, copper items, utensils, tea and coffee. He added edible oil is in very high demand as compared to other items in the list.
In context to infrastructure development, some of the traders noted that development of connectivity and infrastructure in the border are impressive. "Various developmental works are in progress like the intergraded check post for immigration and custom at Nathu-la, double lane road, parking lot facility, trade mart and cafeteria which have provided satisfaction to traders of both the countries – the reason why transactions are on the rise of late," they added. They further informed that the business is carried out peacefully without any cases of threat or harassment.