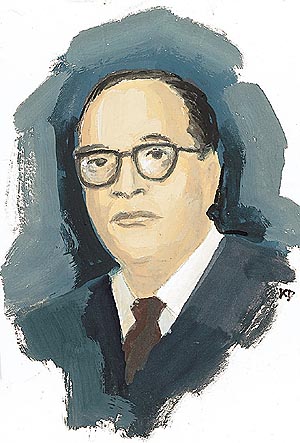 GANGTOK, October05:
The selection committee of Dr. Ambedkar Fellowship Award has decided to confer the prestigious national award-2007 'Virangana Sabitribai Phule Award' to DT Zimba under the auspices of Bharatiya Dalit Sahitya Akademy.
His name will be entered into Akademy Book of Records as per the letter of Dr. SP Sumanakshar, National President Sahitya Academy, Delhi.
The Award function will be held in December 9-10, later this year.
A renowned Nepali litterateur, historian and a profound Buddhist writer, Zimba was born at Nagri Farm Tea Estate Darjeeling on November 1, 1928. He is the fourth son of (Late) Dorjay Zimba and Kusum (Pakhrin) Zimba.
He was also the first ever recipient of Governor-General of India C Rajagopalachari Scholarship when he was pursuing his studies at the Government High School in Darjeeling.
Always a bright student, he passed out his Bachelor of Arts with distinction and Master of Arts from North Eastern Hills University, Shillong.
Mr. Zimba's journey into the literary world began with Tathagata, published in 1963 followed by Bichitra Sringkala - Janjati Ko Itihas in 1998. His research work on Atish Dipankar was published in 1989, History of Tamangs in 2002, Biswa Santhi Ko Disama Ek Kadam (Dalai Lama's Noble Prize translation) besides Buddhist literary works numbering to five. His Nepali Nibandh Sangraha – 1, Nepali Katha Sangraha – 2 (Sharsta & Sadhvi), Manobaigyanik Rachana – Mithakbad Ra Rahasyabad (Sahitya Academy) and Nepali Text Books totalling to eight has created ripples in the Nepali literary world.
The works under publication include Atmakatha (in Nepali), the Fundamentals of Buddhist Precepts (in English).
Presently the Editor in Chief of Bodhi Bhavana, Trilingual Buddhist magazine, Mr. Zimba has also written Geography of Meghayala (in English), first edition in 1972 and its silver jubilee edition in 2005.
He is associated with All India Radio (English Programme) as an Executive Member from 1984-86 and also remained Vice-President AITBA (1984-95), TAC Member, Siliguri –Darjeeling Circle. Mr. Zimba has also attended the 15th World Fellowship Buddhist Conference, Kathmandu in 1984 as a delegate and as well as to the 3rd International Conference, Kyoto.