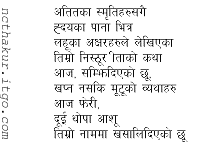 Gangtok & Namchi:
The Nepali Sahitya Academy organised a function to celebrate 15th anniversary of language recognition day here in Gangtok as well as in Namchi.
A function was organised at Sahitya Parishad Bhawan in Gangtok today by members of the Sikkim Nepali Sahitya Committee to celebrate the day. Mr Amrit Khaling, a noted Nepali litterateur from Kalimpong, was the chief guest on the occasion. Addressing the function, Mr Khaling, said:"Language is the identity of people. It is a matter of proud for all of us that the Nepali language has been registered in UNO and can be used as an international language." A poetry reciting competition was also organised to mark the day. Those who took part in the competition included Mr Munna Baral, Mr Arjun Pious, Mr Bhim Thatal, Mr Kishore Moktan, Mr Pravin Rai Jumeli and Mr Sudha M Rai. Students from Tadong Senior Secondary School performed cultural dances and sang songs on the occasion
At the function, Organisation also acknowledged and awarded Nepalese personalities who have contributed in the struggle of Nepali language recognition movement .The Chief guest of function Shri Amrit Khaling from Kalimpong spoke on need to modernise Nepali language and also insisted on need to update Nepali language dictionary and grammar at the interval of every 10 years . Many poets on occasion recited their work before the gathering which also included Shri Kiran Rasaily, Motilal Lakhotia etc.The celebration ended with a small cultural programme.
In Namchi a similar function was organised to celebrate 'Bhasha Manayata Diwas' and also felicitated Shri B.B.Subba, noted musician on occasion.
It may be recalled that the Nepali Language was given recognition by the Government of India in 1992, according to the 8th Schedule of the Indian Constitution.Members of the Akhil Bharatiya Nepali Bhasa Samiti, an association of literary figures from Darjeeling and Sikkim, had played a major role in ensuring government recognition for the Nepali language.