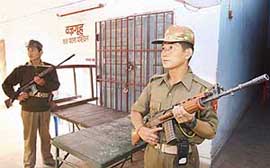 Gangtok:
The elections for local bodies are scheduled to beheld in few months in Sikkim. Electronic Voting Machines are to be used extensively in the Panchayat elections at present scheduled for October 2007 and Municipal elections moved ahead to February 2008 as work on uncompleted demarcated municipal areas under progress.
It is the first time that all Panchayat elections in Sikkim have been picked out for the use of this gadget this time.
A consignment of 12oo EVMs has arrived and is kept at old Lal market at Children Park.The Sikkim Police is providing necessary security arrangement for same.
The EVM has been used in Sikkim electoral process before in Assembly elections of 2004.