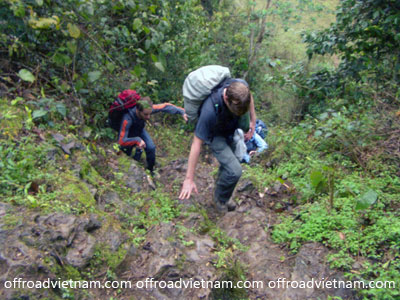 Tenzin Chepu,the college student from Gangtok,who has been missing in the forests of Zit hang above Kabi further to the east in north Sikkim since June14,remains untraced. A new strong Search and Rescue team which includes mountaineers from Sonam Gyatso Mountaineering Institute,Gangtok and Forest Department personnel left early morning yesterday to continue search operation after the first team returns without success.
It has been more than four days now since Tenzin Chepu went missing while returning from a trek with his friends to Paanch Pokhari, a two days trek beyond Kabi.
Official sources informs that the first search party of 21 persons including polive personnel's,family and friends of Tenzin rushed to the area on June 15 has returned without finding any trace of missing college student.
Yesterday morning ,at around 4AM, another team under SGMI started second rescue mission as they left Kabi.It is reported that SP (north)- S.P.Bhutia has asked them not to return till they are thoroughly satisfied with the search operation.It should be a couple of days before any news trickle in from the second team.Also accompanying the team is Boy who was part of the five members team that had undertaken the trek on which Tenzin went missing.He has been sent along the team to identify the spots where Tenzin was seen last while returning.
The mission does not seem easy as the entire area is thickened with dense jungles which the continuous rain have made more treacherous.
Tenzin Chepu is studying at Kolkatta and was here for a short summer vacation.He along with four friends had left on a trek to Paanch Pokhari on June 10.Completing the journey to Paanch Pokhari on June 13,they had camped with a Gothala at Zithang on 13 June and started the return trek on June 14.On return journey, 5 have broken up to into three groups witha groupof two going ahead ,another group of two a couple of minute behind and the last one was Tenzin Chepu another couple of minutes behind the second group.
Soon, the first group is reported top have realized that the others were lagging behind and decided to wait but when no one turned up, they backtracked to the second group waiting for Tenzin Chepu to turn up. AA four boys than grouped together to retrace their stepsto find Tenzin.They went right back to Zithang,where they approached gothala and enquired about missing boy.When another search resulted no trace of Tenzin.Gothala was sent to Kabi to inform Police.
The first search and rescue included 13 locals from Kabi another 6 from Gangtok,comprising family and friends and two members of Police personnel.
Some of the safety rules to abide by are:

Do not trek alone.
Do not make the display of wealth.
Keep belongings secure and within sight.
Make arrangements for handling emergency situation before hand.
Register personal information and trekking path details with respective embassies.
Buy travel insurance policy that covers helicopter rescue cost. Leave a copy of details with an agency in local government.
Choose only authorized government registered trek