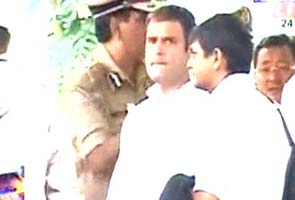 Rahul Gandhi & Sikkim CM Pawan Chamling visit Quake hit Nandok Village
Gangtok:
Three days after the devastating earthquake, Congress General Secretary Rahul Gandhi was in Sikkim on Wednesday. Gandhi headed to affected areas across Gangtok to meet victims and their families.
He was scheduled to make a trip to Meghalaya on Wednesday for a public meeting of Youth Congress membership but changed his plan to include this visit.
Gandhi visited Gangtok on Wednesday morning before attending the scheduled Youth Congress meeting in Meghalaya.His Youth Congress membership meeting is scheduled at 11:30 am at Mini Stadium, Ampathi in West Garo Hills District of Meghalaya.
The death toll in Sunday's powerful temblor has shot up to 82, 68 in India, including 53 in Sikkim, while more than 3,000 people have been rescued in quake-hit areas of Sikkim by defence forces so far.
With Additional Inputs from PTI