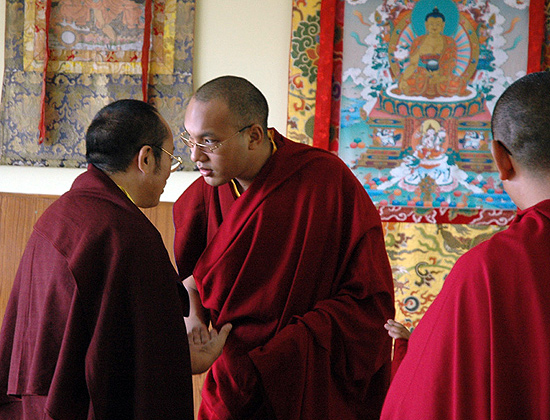 Shimla, July 22:
Troubles seem to be increasing for 17th Karmapa Ogyen Trinley Dorje's mentor Tai Situpa Rinpoche, a high orderly monk in powerful Kagyu Karmapa Sect of Tibetan Buddhism. The police on Thursday sized four high-end luxury cars, with Bhutanese registration number, from Sherabling monastery in Battu village of Kangra district.

Sherab Ling Monastery in Himalchal Pradesh, India

All four cars were being used by monks residing in Sherabling monastery, that was set up by Tai Setu Rinpoche. The police had information that six vehicles with Bhutanese registration number were plying illegaly in different parts of the state. After gathering the information, cops from the police station in Baijnath visited the monastery and seized two luxury vehicles - a Toyota Land Cruiser and another sports utility vehicle. The estimated cost of the both these vehicles is said to be above Rs 1.20 crore. Interestingly, both the vehicles which were earlier being used by Tai Setupa Rinpoche had the same registration number - BHT- 27. The registration number for the Toyota Land Cruiser, that was being used by the Tai Setupa Rinpoche, is issued in the name of Royal Grand Mother of Bhutan.
Sources in the police department told media that the registration number of the Land Cruiser was earlier issued to a 1975 model Land Rover.The other tow vehicles that were impounded by the police were Isuzu's trooper - bearing number BG-2- 0179. The impounded vehicles are said to be owned by the Royal Palace of Thimpu that has also issued diplomatic visa to Tai Setupa Rinpoche.
The fourth is the white colored Mitsubishi van - BP-1-0055 - that is owned by a local monk Dzongsar Rinpoche. The police sources said that Tai Setupa Rinpoche was in meditation when the police reached the Sherabling monastery to take away the vehicles.
"We have impounded four vehicles and the further investigations are on," said Kangra suprintendent of police Daljeet Thakur. Tai Setu Rinpoche, who is said to have close connection with leaders in China, had been instrumental in selection of 17th Karmapa Ogyen Trinley Dorje -- who was coronated as the head of the Karma Kagyu Sect at Tsurphu monastery in Tibet. Tai Setupa is the spiritual mentor of Karmapa Ogyen Trinley Dorje.
Bhutanese number luxury cars came under the scanner after the sleuths recovered Rs 6.5 crore from Gyotu Tantric monastery, the transit home of 17th Karmapa Ogyen Trinley Dorje in January this year. Police had detected that about half a dozen vehicles bearing registration number from Bhutan had been plying in Rewalsar and Baijnath areas. The vehicles had not been registered anywhere in India and had been brought without paying custom duties.