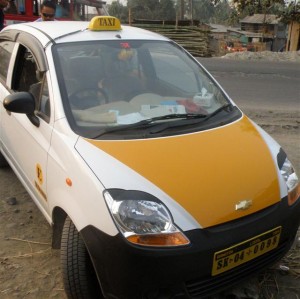 GANGTOK:
One of the best way to know that tourist season is 'in' is when people are seen queuing up on the roads waiting for taxi. Large numbers of tourists are visiting Sikkim every day, which is actually good but the flip side of this is the unavailability of taxis for the normal passengers.
Recently the Government had come up with a very good proposal of starting 'Gangtok Darshan' bus services for the tourists but it had to be dropped because of the opposition form the Driver's Association. But had the Government started this project every day passengers would not have faced so much of problems.
The SNT is trying to help by providing city runners but those buses are not as convenient as the taxis because of the problem for stoppage. The taxi drivers had opposed the Gangtok Darshan project as they were apprehensive that their bread and butter may be compromised, but looking at the queue of people at roadside everyday it appears that it is the general public who are compromised by the decision the most.
Mr RB Rai resident of Daragaon Tadong said that "he works in private sector but due to traffic problems and shortage of the taxi is unable to reach office in time 'everyday'". This is the story of maximum of Government employees as well travelling by taxi these days.
President of Travel Agent Association of Sikkim (TAAS) Mr. Lukendra Rasaily when approached said that the Government must consider luxury bus service for the tourists to bring quality in tourism. He also added that many locals will get employment as guides, caterers, drivers, helping boys etc. This project will also give an authentic flavor to the tourism service and will also help in controlling overcharging, which has become a serious issue, concerning the image of Sikkim Tourism itself.
(Sikkim Mail)