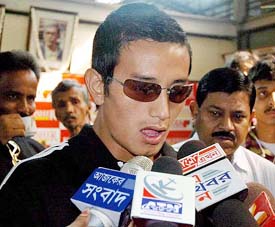 An old age saying says that there is nothing more lip smacking than seeing a hero fall. The larger-than-life cut down to size and pigmies running amuck in their two minutes of glory.
The story of Baichung Bhutia is not that of a studied statesman who has worked his way to become the emperor of all he surveys, but of a carefree adventurer winning over every green pasture he has come across with his inane talent. Baichung Bhutia began his career in 1993 as a dreamy youngster from a sleepy hamlet of Tinkitam in Sikkim and has risen through the ranks to become the face of Indian football.
And now suddenly Baichung stands at a crossroads of his career where everybody wants to take part in the discussion on the future of the footballer, but nobody wants to give his verdict on the road he should take.
The talismanic striker technically has two contracts now, which has sparked a bitter tussle between the oldest rivals of Indian football. Bhutia, who has been denied release after being suspended for six months by Mohun Bagan, is now hoping for his liberation after signing the deal with his old club, East Bengal, which he left in 2006 after a dispute. On July 9, 2009 the Indian Football Association (IFA) governing body met to decide the contentious issue of whether he is a free player or whether he has to play for Mohun Bagan.
In just 30 minutes, IFA left the task of deciding the validity of India captain Bhutia's six-month suspension by Mohun Bagan to the national body, All India Football Federation (AIFF).
A note from the outgoing AIFF general secretary Alberto Colaco, who wrote to the state body that the matter has already been referred to the AIFF player-status committee, apparently prompted the IFA decision.
"On Wednesday evening my office received a letter of Baichung Bhutia forwarded by the AIFF secretary with a note that the matter has already been referred to the Player Status Committee (PSC)," Utpal Ganguly told the house. "The AIFF just wishes to have our opinion on the matter and it depends on the house whether we should at all discuss this matter," said Ganguly as he set the motion to a voice vote, where the majority seemed to accept the IFA secretary's hint.
And now the All India Football Federation's (AIFF) Player Status Committee (PSC) is all set to send the ball back to IFA's court. "The decision on whether the suspension is applicable or not is strictly a state matter as it involves two clubs from West Bengal. Two among the five representatives in the PSC have enquired about IFA's decision. In all likeliness, it is going back to IFA."
However, that may be far from the solution one could be looking at. Ganguly said, "If they send the matter back to us, we will send it to them with our opinion. We will not call another meeting on it. We are now preparing for the IFA Shield."
However, he added quite candidly, "We did not need this row now. Indian football is on a positive curve and this will only push football back."
So much for solutions! As we saw the pictures of Bhutia and company training in Camp Nou in Barcelona and shopping around in Madrid we wondered when for the first time Indian footballers were trying to fill in the blanks of where they faltered, did we need this?
So, what happened!!
Mohun Bagan got its moment of glory when Club Secretary Anjan Mitra made his show-cause public in a display of his male machismo and rare audacity to bring the biggest icon of Indian soccer down into the dust. And people loved it, hated it, talked about it and suddenly Mitra became the face of 'righteousness'—a Daniel in the making.
Bhutia was show caused for not travelling with the team to play an exhibition match in Jalpaiguri, which club insiders say was a reflection of the straining relations between Mitra and Bhutia. It had come to a flashpoint when Bhutia decided against going for the exhibition match causing a severe face loss for the secretary. Mitra retaliated, "Nobody is bigger than the club. Be it Baichung Bhutia or Jose Barreto or a junior player, if you break the rule you have to pay for it. He did not inform us that he was not going. He had reached for practice a couple of times late for crucial matches and did not travel with the team for the AFC cup away ties."
Bhutia, meanwhile, called a press conference and declared that he was "hurt by the conduct of the club and at the way his reputation was maligned. And since I cannot give my 100% under these circumstances, we should part ways amicably."
But problem arose when Bhutia decided to join the traditional rivals of the Mariners across the greens. He was suspended without payment on the flimsy grounds that he had not replied to the show cause on time and for joining a reality show discounting on his commitment towards the club. It was also told that he could not leave the club as he had a three-year contract with them.
For Bhutia it has become a battle to save the image he has painstakingly built over the last 18 years. When I last spoke to him, before he flew off to Dubai, he said, "They are out to finish me. Now it's a battle between good and evil and by God's grace good will win."
He then exhorted, "They have suspended me for six months without pay. I will not play club football for a year. But I will never ever play for Mohun Bagan."
And all for…
And all for a reality dance show! Everyone knows Bhutia is twinkle-toed on the field, but few could imagine him so footloose on the stage too. Many didn't believe he would win the dance contest, but when he did, he set a few other milestones.
What Bhutia did in three months, Indian football hasn't been able to do in six decades. He made Indian footballers look super cool, talented, stylish and marketable. He was the perfect ambassador for a sport struggling for half a century to find its deserved place in the sun. Bhutia won a million hearts with his affable, diminutive and humble nature and won the show with his diligence and hard work.
I am not by the farthest stretch of my imagination trying to say that Bhutia's Jhalak will transform the fate of Indian football's market stocks. Nor will it improve the quality of the game in the country. But it certainly has created a buzz, an interest in the young and the old. The show has got them thinking, maybe our footballers can be cool dudes too like the Ronaldos and Becks of the world. Maybe pursuing football is not that bad an idea. Look at Bhutia, he is not doing so badly for himself, after all.
That's why the Mohun Bagan football club erred in publicly humiliating Bhutia and suspending him for six months without pay for baseless reasons.
Firstly, he did take the club's permission. I spoke to Bagan coach, Karim Bencherifa, before he left for Morocco for his holidays, and he vouched that Bhutia did speak to him. Secondly, Bhutia didn't miss a single I-League game. The only game he missed was an inconsequential off-season exhibition match. Surely that didn't deserve such stern action.
Thirdly, of the 113 days between February and May 14, Bhutia had missed only eight days of practice and that also after informing the coach.
Fourthly, he flew to Jordon and Aman to play Bagan's AFC games paying out of his own pockets. He is yet to be reimbursed.
Finally, according to AIFF's regulation 5.2 a player needs to be registered within a week of signing a contract with the club with his respective state association. That has not been done. Besides a player above 28 years, may not honour the third year of his contract and ask for release and no club has the authority to stop a professional player from doing that.
I had asked Bhutia about his new love in dancing, "I won't lie. I never thought that I could even reach the finals. It was like a miracle. My choreographer Sonia needs to be given the credit. She was excellent. She taught me all the steps and at one point of time, even the most difficult steps seemed to be a cakewalk for me. But truly speaking, even after that I never thought of winning it. There were so many contestants, Gauhar (Khan) and Hard Kaur who are great dancers and even they got eliminated. But it's good that I won. I have always loved winning."
"And as for my new-found love, I was approached for a couple of shows but I turned them down. The dance show was just a one-off thing. I had a great time performing. It was something I had never done before. Now it's just football. Please don't ever be mistaken. I will always remain a footballer because that is what I think I know best and love the most. I live for football and I will die for the game," Bhutia added with his oodles of smiles and characteristic boyish candidness."
The answer to the jigsaw of Baichung Bhutia's fate is closeted in the inner vaults of time. But the Sikkimese Sniper is for now ready to fight it out on the field rather than off it. But let's not forget, Bhutia loves only one thing—winning.