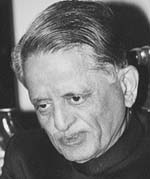 Gangtok,Oct 23:
Sudarshan Agarwal, who has been appointed the Governor of Sikkim, relinquished his office as the governor of Uttrakhand yesterday after serving in that capacity for nearly five years, media sources said.
Talking exclusively to the Sahara Samay news channel, he expressed satisfaction over discharging his duties as the executive head of the state in free and fair manner without any pressure whatsoever.He said that he was happy that he helped in setting up a school for poor and meritorious children during his tenure as the governor.My dream is yet to be realised, it will become a reality only when these students excel in future, he added.Agarwal, a former judge of the Supreme Court, was appointed as Governor of Uttaranchal by the President of India in January 2003.Soon after taking oath of office in January 2003, he set up a Foundation to provide scholarships to bright, poor students for professional courses.
The term of present Sikkim Governor V.Rama Rao expires tomorrow on October 24 .