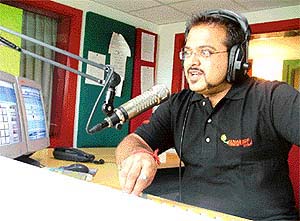 New Delhi, Sept 28:
The radio jockey, whose comments against Indian Idol Prashant Tamang created an outrage among his fans, has apologised to the singer.
A spokesperson of the Delhi-based Red FM channel said Nitin, the radio jockey, has tendered "an apology if he had unintentionally hurt the sentiments of anyone."
"The RJ also had a telephonic interview with Tamang two days ago and the singer had told him that there was nothing of that sort which was derogatory to him," he said.
In response to some people finding the RJ's comment objectionable, the spokesman quoted Tamang as saying on air, "There is nothing like this...It is a misunderstanding.. Nitin has not said anything of the sort."
Nitin's remarks against Tamang on air on September 24 had created an outrage among his fans.
(Agencies)