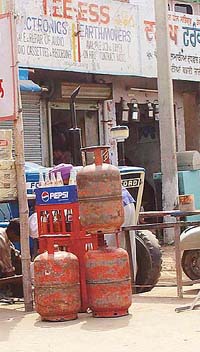 GANGTOK, September 27:
The Chief Secretary of Sikkim N.Chingapa held an meeting with Union Petroleum Secretary at New Delhi today where Indian Oil Corporation has been directed to take emergency steps to restore supplies of LPG to Customers .It was also decided that to meet future contingencies, Government of Sikkim would provide land on priority to Public oil sector Companies to enable it to build additional LPG storage capacity in state besides the existing one.
Meanwhile, it hasbeen confirmed that Barauni Refinery has expressed their inability to supply LPG through 8 tons Gas tankers as that would be cost inefficient to sustain supplies despite the road conditions and their breaches on way to Sikkim as per reports.
Severe shortage of Liquefied Petroleum Gas (LPG) has hit thousands of homes in Sikkim.
The heavy rains and floods in Raiganj and Uttar Dinajpur, West Bengal has added to the already starved supply of petroleum products and LPG in the State.
Grappling with an acute LPG crisis for the past 15-20 days, some of the people in Sikkim are forced to invade nearby forests.
People who made bookings 15 days back at the State Trading Corporation of Sikkim (STCS) are still awaiting LPG in a never ending queue.
Menla Ethenpa, Manager, STCS admitted the shortage of LPG. He said that the only Indian Oil Corporation Bottling plant at Majitar has LPG supply enough only fro two days.
Moreover, a meeting was held with the police so as to stop distributing LPG on VIP quota and also along the roadside.
Earlier, STCS was receiving 50 trucks of LPG, amounting to 250 LPG cylinders. But in this month it had come down to 15 trucks making it too difficult for them to cope with the demand.
With the LPG shortage not coming to an end, the local residents are growing impatient. A large number of people at 5th Mile who ran short of cooking gas for the past one week decided to take out a procession this morning and stop the truck carrying LPG.
"I had booked a cylinder on September 12, but didn't get it till today," said an irate Bikash Chettri. "I had to skip a meal to decrease the use of my old stove with less kerosene around," said Passangkith, a local housewife.
However, the STCS today managed to distribute 600 nos LPG, out of which 400 were distributed from the STCS complex itself, 100 from Syari Cooperative Society and 100 from 5th Mile, Tadong.
According to the STCS officials, it will take another seven days for Raiganj roads to open.
However, in order to curtail the crisis, the STCS had through the State Chief Secretary written to the Union Petroleum Minister detailing about the crisis.
According to informed sources, owing to the breakage of a bridge at North Dinajpur National Highway, the military has not permitted vehicles carrying above 8 ton, due to which LPG trucks carrying more than 13 tons coming to Sikkim from Beurauni had to be stalled halfway.
In a letter written to the Petroleum Minister dated September 24, the STCS has suggested as well as sought permission to bring LPG via Assam.