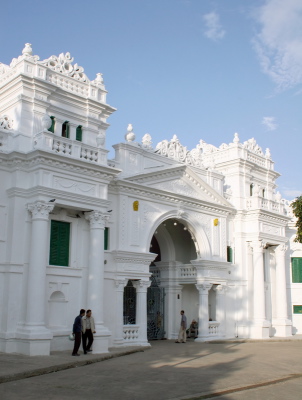 Kathmandu, Aug. 24:
A day after the Nepal multi-party government decided to nationalise royal properties, King Gyanendra and Queen Komal moved out of the Narayanhitti Palace.
Palace sources told The Telegraph here this evening that the royal couple moved into Nagarjuna Palace, which is registered in Gyanendra's name and is located in a forest reserve northwest of Kathmandu.
The palace used to be the summer retreat of the royal family.
The sources said Gyanendra took the decision to vacate the royal premises at Narayanhitti as soon as he learnt about the the government's intention to nationalise seven royal palaces last evening.
"The royal couple will reside in Nagarjuna Palace till the Constituent Assembly elections are held on November 22," the sources said. They added that the queen mother, her son and daughter-in-law have moved into the palace with Gyanendra.
A committee set up by the government to nationalise royal properties had yesterday decided to take over the palaces and freeze all royal bank accounts. It also decided that the couple could stay in the Narayanhitti Palace till the fate of the monarchy is decided in the elections.
However, Gyanendra ignored the government's offer and, instead, moved into the Nagarjuna Palace.
The committee had decided that the Narayanhitti Palace will be run by the government directly.
Six other palaces — Basantapur, Patan, Bhaktapur, Gorkha, Lamjung and Nuwakot — would be handed over to the department of archaeology.
However, sources could not say whether the Nepal army brigade stationed inside the palace will also be asked to leave.
"The army chief will have to take a call on that," the sources said. Some security personnel have moved to Nagarjuna Palace with the royal family.
However, Gyanendra's only son, Crown Prince Paras, his wife Himani and their two children will continue to live in their city home, Nirmal Niwas. This is where Gyanendra stayed before he became the king on June 1, 2001, after the royal massacre