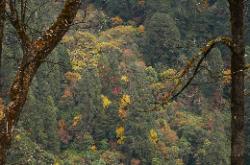 SECOND SEARCH & RESCUE TEAM RETURNS UNSUCCESSFUL,TWO OTHER TEAMS CONTINUE SEARCH
Gangtok:
It is exactly a week now since Tenzin Chepu has been missing in jungles of Zithang.Yesterday the second search team returned back to Kabi after conducting two days of intense search in the dense and inhospitable terrain of Zithang and Paanch Pokhari without much clue of wherabouts of missing Gangtok lad.
It is informed that the official search party consisting of members from Police and Forest Department along with a mountaineer from SGMI returned to Kabi at 2pm yesterday after the two days of search in the area where the boy was last spotted.Their entire search operation is to be condensed in a report which they would be submitting to SP(north)-S.T. Bhutia. Even while the search party has returned,It is informed that two more search parties are still up at Zithang and the surrounding areas in search of the missing Gangtok youth Tenzin.One consists of his relatives and also includes some personnel from Police department who it intimated is also assisted by some army persons.Another party also of family and friends has been combing the Rateychu and is still engaged in the search.
Tenzin Chipu was first reported missing on June 13 by his friends who were in group had gone on an adventure trek to Paanch Pokhari.
It is also informed that it has been raining heavily in the area making the search very difficult in the thick jungles mad more inhospitable by abundance of leeches and lack of habitations nearby.